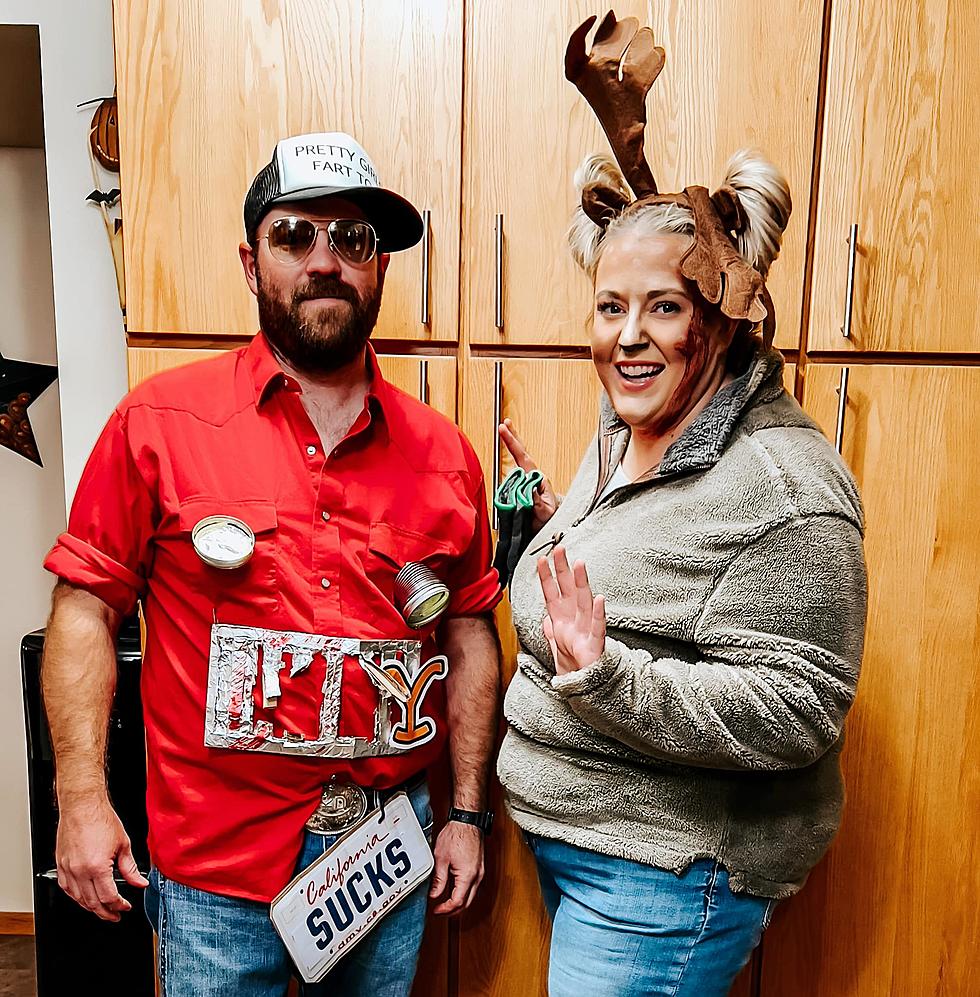 These Montana State Fans are BY FAR One Of The Best! It's Amazing
Whitney Klasna Official Facebook Page
We all know that one person or persons that claim to be the "biggest Bobcats fan". Well, I have a challenge for them. Meet Whitney and her husband Dylan. These two CRACK ME UP!
It's been going on for a while, the rival of the North Dakota State University Bison and the Montana State University Bobcats, but these two put a whole new meaning to "Bobcat Fan". They are definitely SUPER FANS. Ranchers in Northeast Montana, Dylan, and Whitney are not afraid to show their Bobcat Pride, and I for one, absolutely LOVE it!
It all started with one picture...and now that picture is my favorite thing on the internet!
This simple picture of Dylan and his beloved MSU flag soon turned into this...
Oh, but it does not stop there! These are some of the best ones I have seen and it just shows you how awesome this couple is!
Montana State Bobcat gear is everywhere throughout the town, from storefronts, to license plates, to flags, they are even...on the moon.
And I have saved the best for last, I mean, I am a supporter of the Bison, when it's on a plate, in between bread, or in the form of a meatball. All are acceptable forms of Bison to me, and that is the only way I will support them. It seems like Dylan and Whitney have the same views as me. I'll take mine medium rare, the medium-rare that doesn't need any sauce, just a sharp knife, and a little blood.
Thank you so much Dylan and Whitney for being AWESOME! And of course...GO CATS!
If you love this as much as I do, check out Whitney's INSTAGRAM and her FACEBOOK and give it a follow. You will not be disappointed!
Places To Grab Pizza By The Slice
2022 Country Music Festivals Guide
Enjoy an updated list of country music's best festivals, across America, Canada, Great Britain and more. This list of 2022 country fests will be updated to reflect postponements, cancelations or lineup adjustments.
These Artists Prove Traditional Country Is Alive and Well
These 23 modern country singers prove that traditional country is alive and well. Cody Johnson, Justin Moore, Aaron Watson and newcomers like Triston Marez and Lauren Mascitti are staying true to country music's roots. Scroll down to find an artist you'll love.