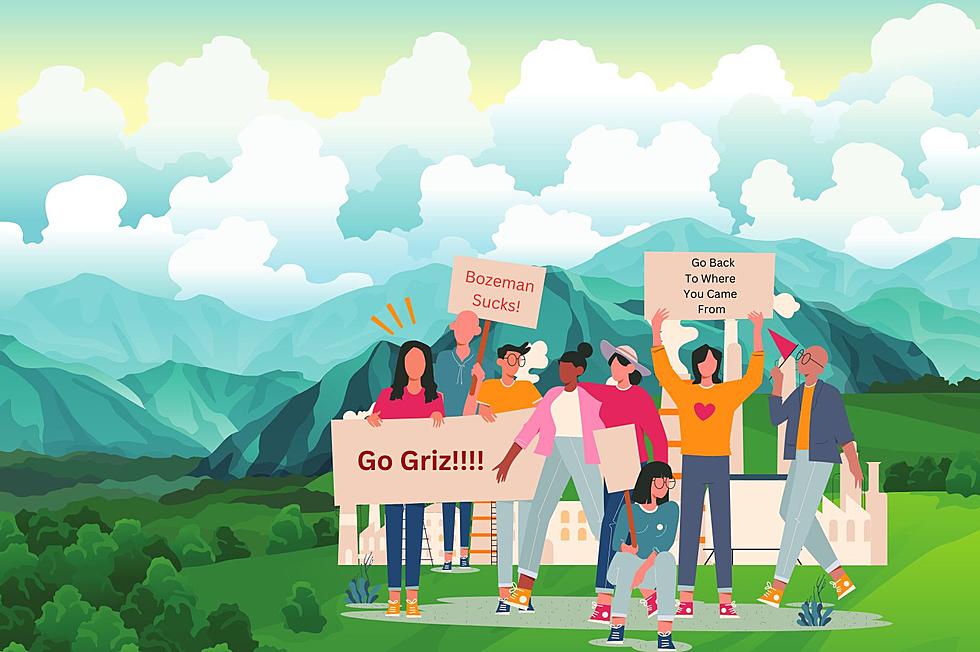 Here's The Top 5 Reasons Montanans Can't Stand Bozeman.
Credit: Canva
Bozeman Montana, is a beautiful University town that's surrounded by mountains and is moments from skiing, fishing, rafting, and a crazy amount of trails for hiking and biking.
Not to mention it's just down the road from one of the most popular National Parks in the country, plus, it has one of the busiest airports in the Northwest, and is filled with culture, fine cuisine, and a wonderful music scene. Sounds like a dream, right?
Well, for many of us that live here, it is.  For others, not so much
You see, not only do a whole lot of Montanans not care for the folks from out of state, but they also aren't really fond of folks that are living in the state and one of the places Montanans dislike the most seems to be Bozeman.
Maybe you're thinking I'm exaggerating, but apparently hating on Bozeman is big business. I mean there are bumper stickers, t-shirts, and billboards that say "Make Bozeman Montana Again"
As a resident of Bozeman, I think it's a great place.  Granted, the housing situation sucks, but other than that, most people are very friendly, there's always something to do, and if you want to get away from all of the "culture" you can be out in the middle of nowhere in like 20 minutes.
So why so much shade for one of the fastest-growing towns in America?  Well, let's take a look at The Top 4 Reasons Montanans Can't Stand Bozeman
It's One Of The Fastest-Growing Towns In America
In case you haven't figured it out, there is a large population of Montanans that believe the state is full.  So much so, that they think it would be a good idea for people already living here to and I quote "go back where you came from". Now keep in mind, it's the 4th largest state and has a population of just over a million, but this article isn't about facts.
It's Home To The "Rich and Famous"
We've all heard the term, "Boz Angeles" and we certainly see our share of the rich and famous, but most of that is due to our airport and not the town itself.  Sure, we have celebrities that live nearby, but the majority live on a large plot of secluded land, or in a fancy top-secret club over in Big Sky. In fact,  believe it or not, Bozeman is considered to be the poorest city in Montana.
Bobcat Haters
In Montana, you're either a Bobcat fan or a Griz fan and if you're the latter, you certainly aren't a fan of Bozeman. When I first moved to Montana over a decade and a half ago I ended up in Missoula.  All I heard about was how horrible Bozeman was and that was where all the "hicks" went to school.  Interestingly enough, MSU has a higher graduation rate and GPA out of the two schools.
The Town Leans To The Left
It seems that nowadays, everything is about politics. You're either on this side or that side, and if you're on the other side, then you are a big dumb dumb and don't know anything, and hate America and freedom and blah blah blah. Like most University towns, Bozeman tends to be more liberal, especially compared to other more rural towns in Montana and while many blame the enormous amounts of out-of-staters that have moved here, I'm guessing it was left-leaning before all of that.
The Californians
I tell ya, if you ever want to get on a Montanan's good side, all you have to do is say "damn those Californians".  It's true, a whole lot of Californians have moved to the Bozeman area, and that's resulted in home prices going through the roof not only in Bozeman but the smaller towns that surround it.  Of course, to be fair, it's not just the folks from California that have invaded Bozeman, lots of folks from Oregon, Washington, and other states have decided that Bozeman would be a perfect place for a second or third home.
The truth is, many Montanans as well as Bozemanites wish that it would go back to the little Cowboy town it was all those years ago, and that's probably not going to happen.  In fact, it's more than likely to continue to grow and grow at a rapid pace. However, I will say this, living here, it sure is nice to be able to leave town and visit Montana.
These are the Top 8 Cheapest Towns To Live In, In Montana
Have you been contemplating moving to Montana? Maybe you already live here and the town has gotten so expensive you are having to relocate by no fault of your own. The good news, you can stay in Montana by moving to one of the cheapest towns in Montana.
Top 5 Safest Cities In Montana, 2023
Like every state, there are always going to be a few towns that make us think twice about moving there or deciding where to raise our kiddos. But like I always say, "negative yells and positive whispers". The same goes for crime and violence; we hear about all the drug busts, assaults, break-ins, etc. It's not very often we hear about all the great things right?
Here's The Top 10 Tourists Sites For Those Visiting Montana
Montana is known by several nicknames. Big Sky Country, The Treasure State, and the Last Best Place to name just a few. Each year, millions of folks travel to Montana to partake in its beauty, while often seeking adventure in the outdoors. From skiing to rafting, fly fishing, to snowmobiling, Montana can certainly be described as an outdoor paradise.
No matter the season, there is always something to see and do in Montana. Here's a look at The Top 10 Tourists Sites For Those Visiting Montana.