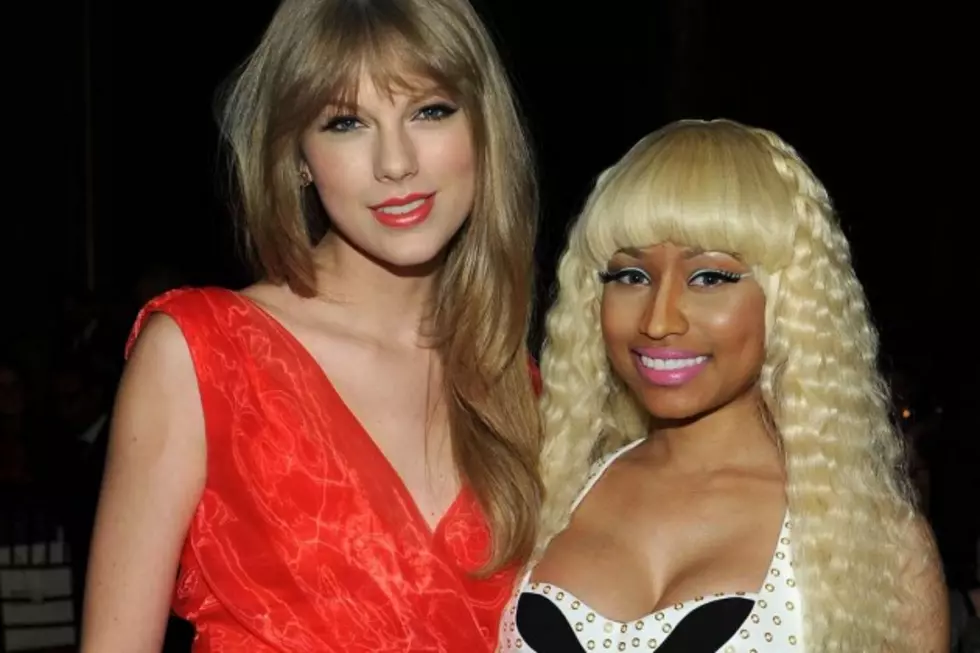 Nicki Minaj Sounds Off on 2015 MTV VMAs Snub, Taylor Swift Chimes in
Larry Busacca, Getty Images
Today (July 21) was a big day for many of your favorite rappers and singers considering the MTV Video Music Awards nominees were revealed. While winning any of the awards is an achievement for all artists involved, the most coveted Moonman trophy is the one that will be awarded for Video of the Year, with nominees including Beyonce's "7/11," Kendrick Lamar's "Alright," Taylor Swift's "Bad Blood," Ed Sheeran's "Thinking Out Loud" and Mark Ronson and Bruno Mars' "Uptown Funk."
But one name that fans noticed was omitted from the Video of the Year category was Nicki Minaj, whose video for "Anaconda" cracked 19.6 million views within 24 hours, setting a Vevo record. The Pinkprint creator's collaboration with Beyonce, "Feeling Myself," which also made major waves, was also missing from the nominations list.
The rap star took notice of the snubs and sounded off on the subject via Twitter. She thanked the good folks at MTV for her nominations in the Best Female Video and Best Hip-Hop Video categories, but not without coyly asking whether the "Feeling Myself" video missed the deadline.
With that one tweet, Nicki Minaj's fans decided to voice similar thoughts, most notably asking why her video for "Anaconda" failed to make the cut, which the rapper retweeted in a sign of agreement.
The reaction from her Barbs likely struck a chord with Nicki, as her next tweet would have her taking off the kid gloves. "If I was a different 'kind' of artist, Anaconda would be nominated for best choreo and vid of the year as well." She goes on to list the fanfare the video received and insinuates that racism may have played a part in the snub. "When the 'other' girls drop a video that breaks records and impacts culture they get that nomination," she wrote. Basically it seems like Nicki feels white women are celebrated before women of color are given a chance for their talents to be appreciated in the same manner by the media.
Many took the sly comment as a direct shot toward Taylor Swift, who's been on a hot streak in terms of taking home hardware at virtually every major awards show as of late. Nicki further fueled those assumptions as she continued her rant, writing, "If your video celebrates women with very slim bodies, you will be nominated for vid of the year." She followed that jab by inferring she'd pull a Kanye West and show up on the stage to accept the award no matter who else was the clear winner: "Oh but trust me. I'll be on that stage to collect my awards for vid of the year. Feeling Myself & Anaconda."
Her Twitter rant didn't end there. Nicki continued by bringing Beyonce's thoughts on the initial "Anaconda" video snippet into the conversation, as well as confirming her earlier notions that her Video of the Year snub is about race.
At that point, Taylor Swift, who is growing a rep for her provocative statements on social media and elsewhere, decided to chime in with a tweet of her own directed toward Nicki. "I've done nothing but love & support you. It's unlike you to pit women against each other. Maybe one of the men took your slot," she wrote. This could be taken as a shot back at the rapper on a number of levels or a display of feminism, depending on how you look at it. Coming from Taylor, this is a shocking considering she's not one to actively participate in a possible Twitter feud.
Either way, all eyes were immediately on what was looking to be a potential Twitter spat of epic proportions. As predicted, Nicki Minaj almost immediately responded. She informed nothing Taylor she never once mentioned her by name, but offered somewhat of an olive branch before imploring the pop star to speak on the issues she had brought up herself.
Taylor Swift attempted to smooth over the situation, but entirely missed the point of Nicki's rant: "If I win, please come up with me!! You're invited to any stage I'm ever on." This was an apparent sign that there was no beef on her end. However, rather than focus on the racial implications as Nicki suggested, Taylor played it safe.
Ironically, Nicki's ire was then directed toward various media outlets, which had jumped on the story, framing her remarks as an outright attack on Taylor. "Nothing I said had to do with Taylor. So what jabs? White media and their tactics. So sad. That's what they want." We beg to differ given all of the evidence laid out. What is obvious is that every music fan in the world will have their attention on Nicki Minaj if Taylor Swift takes home the Video of the Year award at the MTV VMAs. Will Nicki, who is nominated for Best Collaboration, Best Female Video and Best Hip-Hop Video, storm the stage like Kanye? We'll have to wait until Aug. 30 to find out.
See 10 Bootylicious Beauties