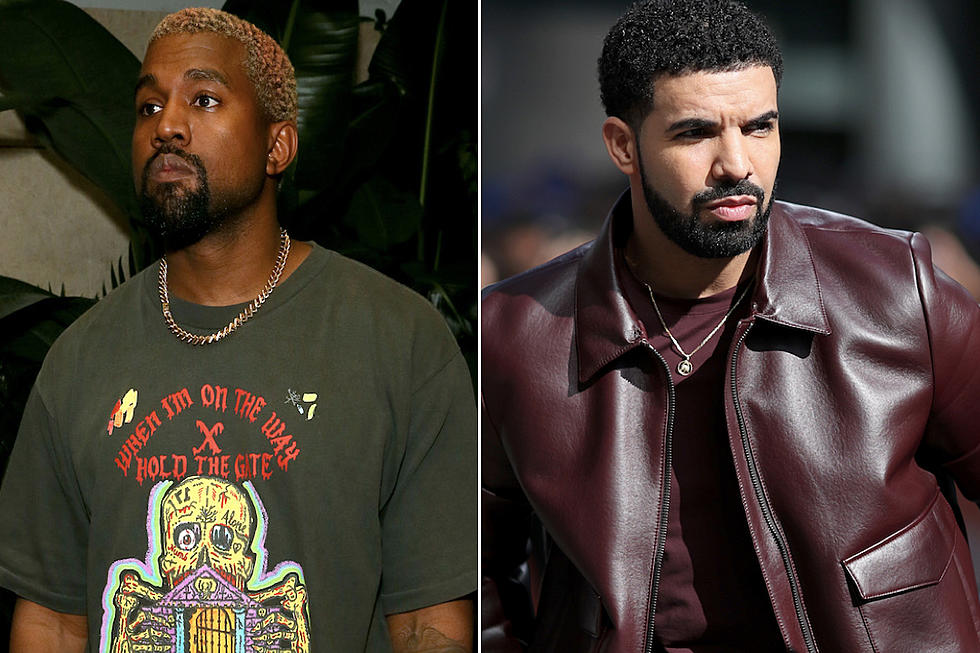 Kanye West Demands Apology from Drake in Angry Twitter Rant
Astrid Stawiarz / Joe Scarnici, Getty Images (2)
Kanye West is mad as hell and he's not going to take it anymore.
On Thursday (Dec. 13), 'Ye jumped on his Twitter account and delivered an angry stream of tweets against Drake in an attempt to clear the air and finally squash their long-standing feud.
It appears that Drizzy sent "a clearance request for 'Say What's Real,'" which sent Kanye into a fit of rage. He accused the Toronto native of sneak dissing him behind his back over their beef.
In his Twitter rant, Kanye revealed that he has been seeking an apology from the "In My Feelings" rapper for six months now but to no avail.
"Still need that apology for mentioning the 350s and trying to take food out your idols kids mouths," he tweeted. "Been trying to meet with you for 6 months bro. You sneak dissing on [Travis] records and texting Kris talking bout how's the family."
Kanye also stressed that he didn't know anything about Pusha-T's diss song "The Story of Adidon" where the Clipse rapper revealed that Drake is hiding a secret love child from the public, among other things. The rapper-producer maintains that he never gave King Push intel about his son.
"I told you I ain't tell Pusha about your son," he wrote. "It's all love bro bro but don't play with me. You stay too close to be playing all these industry games bro."
"Sending purple emojis When I'm dealing with mental shit I need my apologies now Not through scooter either Not through Travis," he added. I would never intentionally try to hurt you bro I never even heard none of the diss records That ain't my MO never did a diss record."
Kanye also mentioned "Buying first two rows at Pusha show got me hot bro," which he may be referencing to Pusha-T's recent concert in Toronto where he was sprayed with drinks during his performance.
Several minutes later, Kanye shared that Drake had finally called him about the song clearance. "Mission accomplished," he tweeted. However, 'Ye didn't grant Drizzy's request.
"By the way...not cleared," he tweeted with a laughing emoji.
Either way, this rap beef has been simmering long enough and it's time for it to end.
In any case, you can read Kanye West's angry Twitter rant against Drake in our gallery below.
See Kanye West's Twitter Rant Going at Drake
See Photos of Kanye West's Different Looks Over the Years