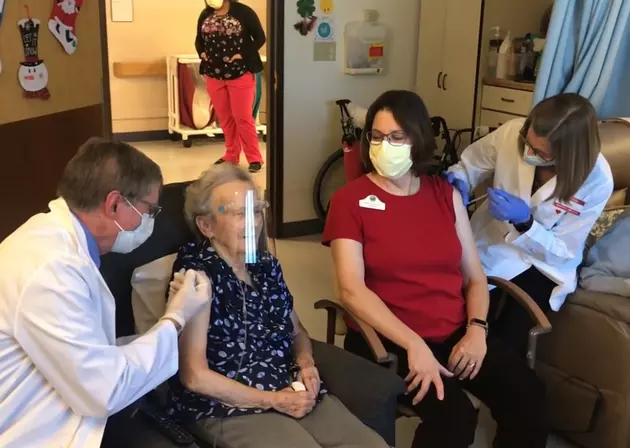 Gallatin County Rest Home Receives COVID Vaccination Shots
Photo Credit: YouTube Screenshot/Gallatin County
Tuesday was a big day for the residents of Bozeman's Gallatin Rest Home. Both staff and residents there received their first COVID-19 vaccinations.
Twenty-four residents and 33 staff members took part in the vaccination clinic, according to a press release. That was about 70 percent of all Gallatin Rest Home residents and approximately 50 percent of staff. The clinic was provided through CVS staff from Helena, Missoula, and Butte.
Gallatin Rest Home Administrator Darcel Vaughn said that staff and residents are very excited about the possibilities the COVID-19 vaccine brings. "This is a big step moving toward the reopening of the nursing home to visitors," Vaughn said.
Resident Joyce Santos remarked that the vaccine didn't hurt at all. "This is something that everyone should do to protect yourself and others," Santos said.
In information provided on their website, the CDC says all but one of the COVID-19 vaccines that are currently in Phase 3 clinical trials in the United States use two shots. The first shot starts building protection. A second shot a few weeks later is needed to get the most protection the vaccine has to offer. One vaccine in Phase 3 clinical trials only needs one shot.
Residents of long-term health facilities and health care workers were chosen to get the new COVID-19 vaccine first. Frontline essential workers like first responders, postal workers, and educators will be next, followed by those 75-years-of-age and older.
If you have questions about the COVID-19 vaccine, visit CDC.gov or click on the button below.
In Pictures: What Education Looks Like Around the World During a Pandemic