DC's Live-Action 'Titans' Teases a Beastly Fan-Favorite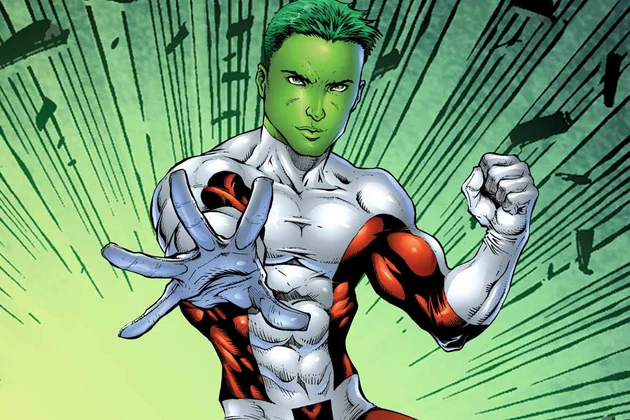 The live-action DC Titans got a surprising resurrection with the announcement of a new digital series, but plenty of questions remain. Only three team members were confirmed with the initial announcement, and now DC bosses hint at a fourth that has fans going ape.
Currently eyed for 2018, the new live-action Titans will be written by Akiva Goldsman, DC boss Geoff Johns and DC TV leader Greg Berlanti. The initial synopsis only listed Dick Grayson, Starfire and Raven by name, though Johns hinted over Twitter that comic staple Beast Boy would be making an appearance as well:
Yes!! Very happy to be writing the Titans again and working with this crew! Extremely excited. Will be something very different… #BeastBoy https://t.co/D4sl3Gip7y

— Geoff Johns (@geoffjohns) April 25, 2017
Even as the comic roster of Teen Titans frequently rotates, it's worth wondering who might actually appear in the new series. The press release included a classic cover for The New Teen Titans that features Raven, Starfire, Kid Flash, Robin, Beast Boy, Cyborg and Wonder Girl, though Kid Flash already appears on The CW's Flash, while Cyborg was prominently elevated to the live-action Justice League.
What gets really weird is whether Goldsman is working off the original TNT Titans script, which was said to feature Dick Grayson as Robin (a Boston detective!), Barbara Gordon (using a wheelchair, but not called "Oracle") and Hawk and Dove, with Raven and Starfire showing up at the pilot's end. In that instance, neither Beast Boy nor Cyborg were apparently mentioned in the script.
We'll likely learn more in the coming months, but what lineup of Titans should DC's new drama adapt?
Subscribe to KISS FM on
Subscribe to KISS FM on

Source:
DC's Live-Action 'Titans' Teases a Beastly Fan-Favorite